---
Sofar Sounds Show THU 31/8/23


---
3RRR Radiothon -
SUN 27/8/2023
---


Brunswick Artist's Bar FRI 25/8/23


Komplete Kents
with
Pete Ewing

&
Mick Ewing
Friday night at the Artist Bar
A night of mini renuions, familiar faces, brand new faces and brand new combinations. A family affair of sorts, but the very location of the show would warrant that. "Komplete Kents" played their first show, though no one in the band was that green. Regina Ewing (sister), has put together a pumping little 3 piece with herself making 4 on vocals. I am rushing ahead... With my lovely Sophia behind the bar, the ever dangerous Benji Millard returning from a 20 year hiatus in my life and I in his and my battle weiry parents there, the night could've gone to the dogs musically and I wouldn't have cared.
BUT, far from being that, the music provided on the evening was world class.
Mick Ewing
(brother) opened the evening, part solo, part duo with Regina, and some cameo's from myself.
Regina & Mick are a killer unit, trading harmonies and singing like only siblings can. I was struck on quite a few occassions as to the lack of sibling performance in the past, outside of births, deaths and marriages. Micks songwriting shone through as usual, with his weaving of interesting, heartfelt, occasionally obscure, always captavating and ever celebrating the strangeness and wonderful lives that live the brilliantly mundane (as we all do).
His storytelling is has the gift of drawing empathy from the audience for the characters he paints. Ever the humble man, his performance and presentation is given without an obvious need for recognition. It's only a compliment that his profession is of no interest for conversation when, what many "suburban cowaboys" would only wish the had the songwriting talent, Mick displays at a whim and without fuss.
---
(A recording of
Farmers Son - Mick Ewing
, one of the many played at the show)
---
Regina joined Mick infront of the Mike and as said before, the harmonies, the tamber and the comfort their voices had together was an early show stopper.
Regina was just warming her pipes up for later as she sang a few songs donated to the cause by Micks back catalogue of characters and narratives. Regina was in fine form and her voice is a good as I've ever heard. Not to cast her sonwriting ability aside either. This pairing of siblings is a pretty a tight setup and damn impressive. I look forward to the recorded versions of their setlist.
Pete - Mick - Regina
After a great set by those two, it was my turn tump up.
A borrowed electric guitar and an amp from the Ballrooms lost and found can leave me in a pickle ever few songs or so. This is nothing short of my fault and so i should apologise to Regina for confiscating her harmonica during one of Mick's songs, only to play it myself. Bit of a prick move, especially from the guy with borrowed grear hahaha... oh well.
It was a decent set to play, but nothing mind blowing. Very enjoyable to play a host of new songs, and I'm looking forward to recording for an album later this year.
Now for the
Komplete Kents...
I'm so glad this band played. They have chosen a set of songs to cover, that are fun, beyond skin deep, suitably hip for the inner north, but not pretentious. Having a band like this close out an evening is a bloody treat. Unbeknownst to me, and my lubricated yet resonably responsible demeanor, The Kents soothed the soul of an off duty Policeman, who had to put up Benji and I talking his ear of at various stages of the night.
To that man, I am sorry. Back to the band. Pauls guitar work is subtle and has no place to hide in a sloppy moment, of which there were none. His pedal board is spartin and pulls a sweet sound from his guitar. He doesnt overplay, and he leaves space. His backing vocals and sometimes lead vocals were A1! Accompanied by Michael on Bass, what can I say... The man keeps the bus on the road. He's a damn solid player, alongside Greg on drums, who is the ultimate professional.
I'm sold on having this band play to finish a night anytime.
Kents were great and the whole night was a winner.
Benji, having got an Uber from arriving at 5pm before the show, was once more in and Uber back to Geelong at 5am. Total cost $300.00... VLine to Geelong $3.50.
Still it was great to see him. Fun times.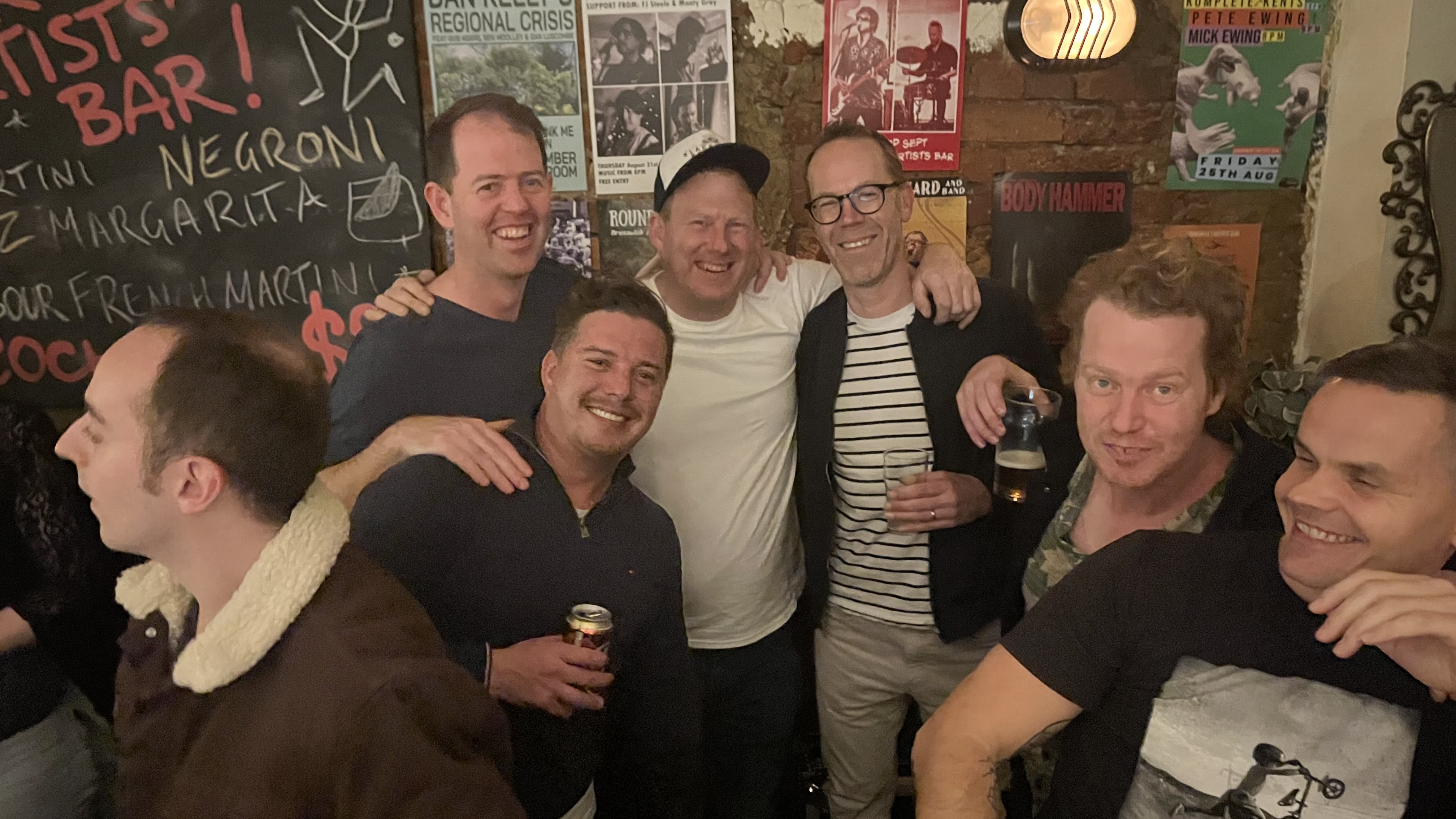 ---


- Tuedsay 24/8/2023 - Rehearsal
Mick & Regina/Komplete Kents
Mick & Regina/Komplete Kents